Carolines blog 12 nov 2012 15:28 by Caroline Blomst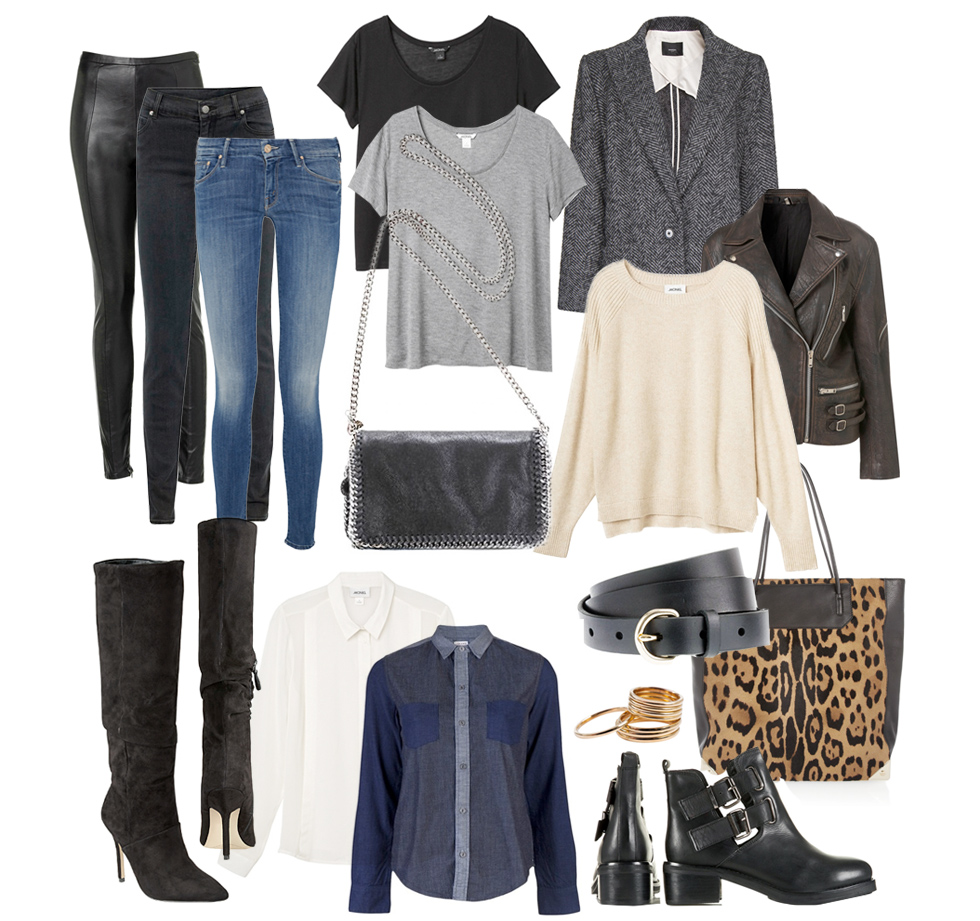 1. PANTS. Leather leggings and denim are a must. At least for me. Sometimes real leather can be expensive but there are quite a few faux ones on the market that both looks like leather and feels great. Check out these from
Topshop.
Then denim, black and blue.
Cheap Monday
makes great budget denim. But sometimes you might wanna invest in a designer pair, I like
these
from Mother, they also come in a nice
black shade
.
2. BASIC T-SHIRTS. I mostly wear black and grey but a white one is also very usable. These two comes from
Monki.
T by
Alexander Wang
also makes great ones.
3. COATS AND JACKETS. The Parisians inspire me here. All you really need is a nice little coat/blazer and a perfect leather jacket. I love
this coat/blazer
from Mango, it looks very Emmanuelle. And come on, the price is amazing. And the leather jacket, slightly brown in a oversize mode, looks just perfect. I really love the dark brown color. From
Topshop.
Then again you might also need something warmer, at least here in Sweden. Check out
this one
for inspiration, real nice but expensive.
4. KNITWEAR. This season hottest knit is probably the off white one, thanks to Balmain. Wear it slightly loos and tucked in to a black pair of denim. And don't forget to belt up! The simplest combo but really beautiful! The white knit above is from
Monki.
5. BAGS. When you wear a lot of basics it's worth to invest in the accessories, the bags. I'm still dreaming about
this
Stella McCartney bag. Also that leopard tote from
Alexander Wang
would not be wrong. Leopard... not so basic one might think but this one will be very usable with the basics, pop up things a bit.
6. JEWELRY. Accessorize simple. A black belt goes with anything. Keep it plain like
this one.
I'm still in to simple jewelry, the simplest styles last longer.
These
golden rings that come in a whole bunch are nice (they also come in silver). Wear just one or several at a time. I would never turn down
this
, but
this one
is a nicer alternative, at least for the wallet.
7. OK, SHOES. I guess one can never have too many, right? For essentials a pair of
walkable ankle boots
are a must. Then a pair of
suede boots
would look real nice to the denim and knit! I say go for both!
8. THE SHIRTS. Tucked in or out and to layer with. Nice. A white classic and a denim one. I love these two,
the white
from Monki and the
patched denim
one from J Brand.
You may also like: