Carolines blog 29 apr 2013 13:50 by Caroline Blomst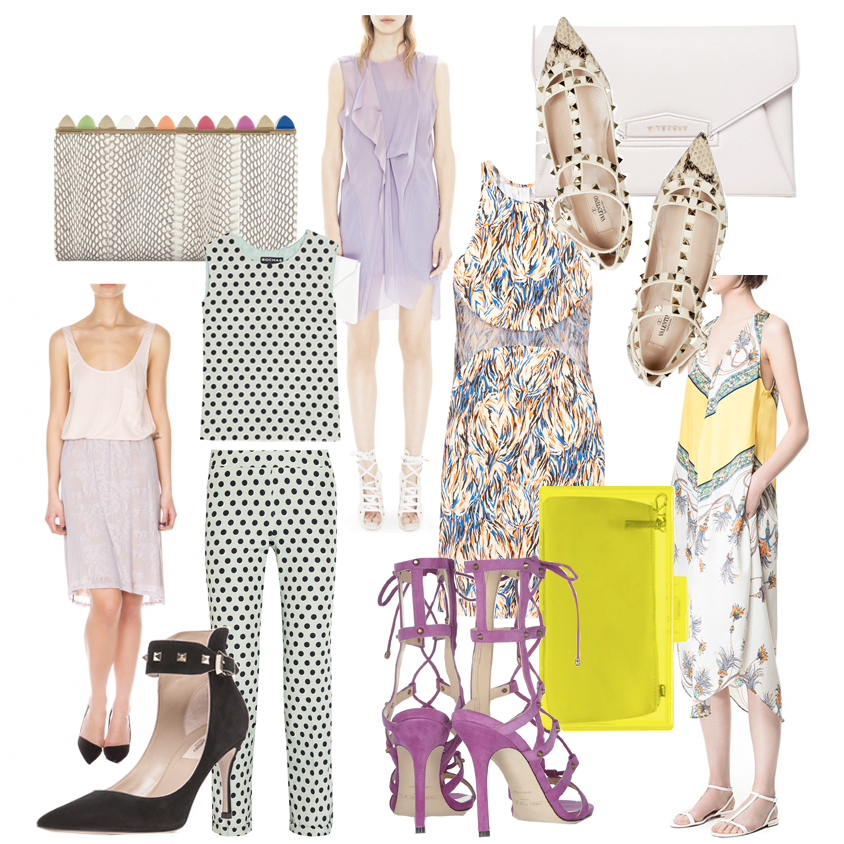 I get quite some emails about what one should and could wear as a guest to a wedding. And that's a real hard question to answer. First check if it's a formal or non formal wedding. What are the other guests wearing? Is it an day or evening wedding? Take all those things in consideration and then go from there. I'm attending a wedding this summer and it's a non formal one where the guests are free to wear what they like. Since it's a summer wedding I'm thinking fun and happy with soft colors! Color vise I'm thinking purple, yellow or mint/green. That can never go wrong. I'm also thinking the dress or outfit and accessories should fit for more than just this one occasion. Here are some of my suggestions. I hope you get inspired!
1. Clutch from
Jimmy Choo.
2. Dress from
Acne
(this is the dress I got). This dress can be worn in two ways, either buttoned up like in the pic or opened (which I prefer). 3. Snake/stud flats from
Valentino.
4. Ivory Antigona clutch from
Givenchy.
5. Cute look with skirt from
Graham & Spencer
and top from
Haute Hippie.
6. Dotted set from Rochas, top
here
and pants
here.
7. Dress from
Stella McCartney.
8. Transparent box clutch from
Zara.
9. Dress from
Zara.
10. Shoes from
Valentino.
11. Lace up sandals from
Jimmy Choo.
You may also like: