StockholmStreetStyle 6 jun 2008 12:05 by Daniel & Caroline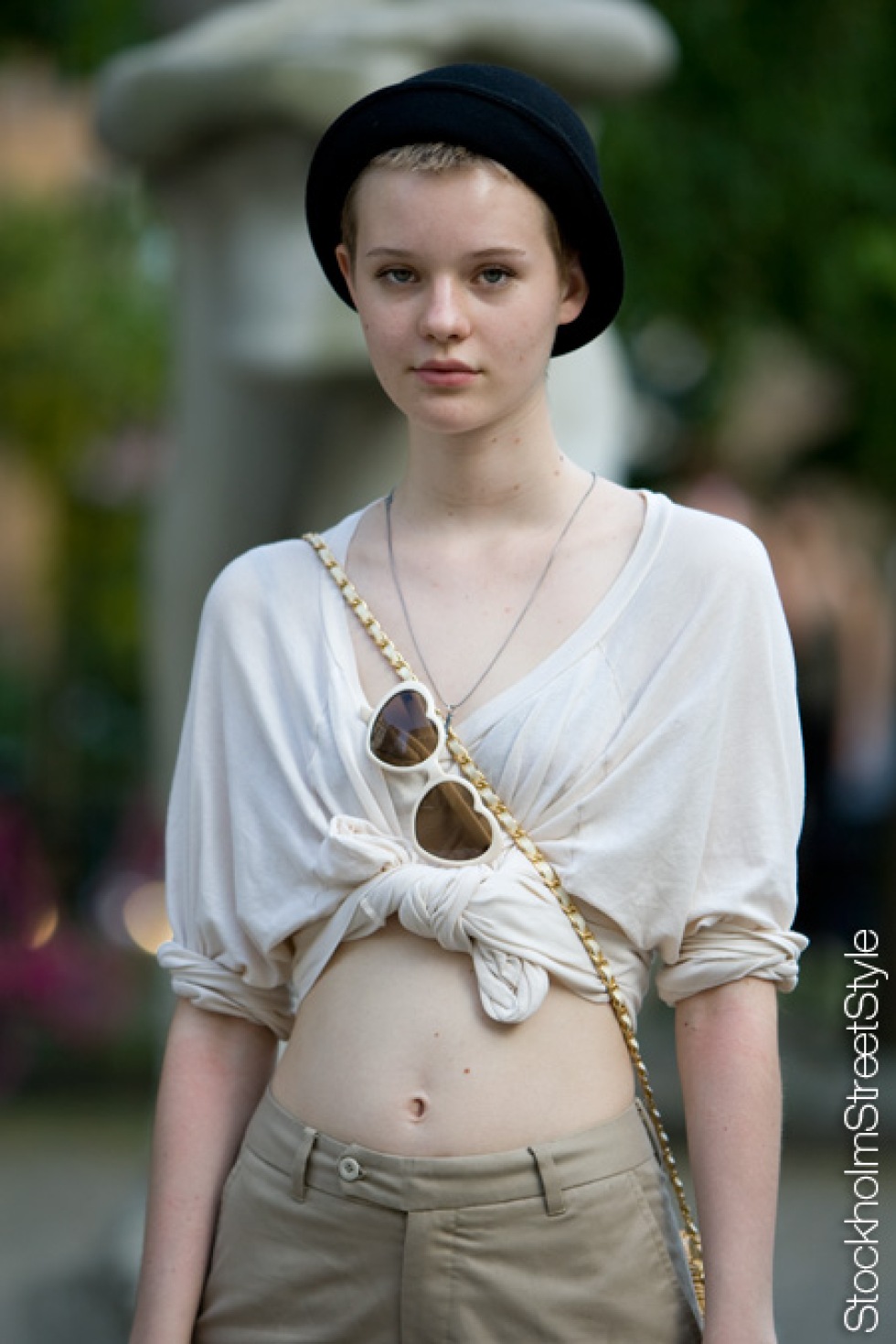 Berätta om din outfit, vad har du på dig?
- Ett par skor från Din Sko, ett par byxor som är uppsydda från Vietnamn, en tröja från American Apparel, en hatt från Hope, väskan är från H&M och mina glaögon från Topshop.
Hur skulle du beskriva din stil i dag, har du något tema i dagens outfit?
- Jag tror jag satte på mig den här beiga tröjan först och så tänkte jag att det fick bli beige idag.
Sysselsättning?
- Går i skolan.
Har du någon modeikon?
- Jag brukar mest hämta inspiration från filmer och från folk på stan.
Stockholms bästa klädbutiker?
- Secondhandbutiker överhuvudtaget är kul. Söder och runt Nytorget är bra.
Bästa lokala märkena?
- Jag har inte direkt ett favoritmärke men Acne är alltid bra.
Favoritartist/musik?
- Jag tycker egentligen om all musik som inte är för hård men typ elektronisk musik och Beatles är alltid bra. Det varierar väldigt mycket.

What are you wearing?
- Shoes from Din Sko, pants from Vietnamn, a sweater from American Apparel, a hat from Hope, a bag from H&M and sunglasses from Topshop.
What's the theme of your style today?
- I began to put this beige t-shirt on so I decided to go for beige today.
Who is your fashion icon?
- I usually get my inspiration from movies and people in the streets.
Where are your favorite local shops?
- I like second hand stores at Söder around Nytorget.
What are your favorite local brands?
- Acne is always good.
Who is your favorite musician?
- I varies a lot. Ilike electronic music and Beatles is great.
You may also like: